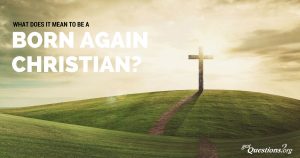 John 3: 1-7
Being born of water and the Spirit
A Pharisee, a man named Nicodemus came to Jesus and said "Rabbi, we know that you are a teacher who has come from God. No one can perform the signs you are doing. I think God is with you" He saw the signs, Jesus performed. He saw and focused on the miracle of Jesus, not only Jesus.
Jesus replied to him "Very truly I tell you, no one can see the kingdom of God unless they are born again." He mentioned two things "being born again" and "kingdom of God". What is the meaning of Born Again? It means that it becomes totally different one, it's not evolved. It has not changed. Not a little better. It means totally die and rose again.
2 Corinthians 5:17
17 Therefore, if anyone is in Christ, the new creation has come, the old has gone, and the new is here!
What has changed since we believed in Jesus?  You are in Jesus, you are a new creation. The old one is all gone.  God so loves us, so he doesn't judge us, punishes us, but forgives our sins through Christ Jesus.
In Christ Jesus, our identity changed the new one, children of God, In Christ Jesus, All our faults and sins are covered. God's great grace covers all our sins.
John 1:12-13
12 Yet to all who received him, to those who believed in his name, he gave the right to become children of God
13 children born not of natural descent, nor of human decision or a husband's will, but born of God.
Romans 10:10
10 For it is with your heart that you believe and is justified, and it is with your mouth that you profess your faith and are saved.
13 for, "Everyone who calls on the name of the Lord will be saved."
There is no discrimination. Everyone who calls on the name of the Lord will be saved
Romans 6:14
14 For sin shall no longer be your master, because you are not under the law, but under grace.
We are all under the grace of God. Let us have peace with God in Christ Jesus and follow the life of Jesus in this world.