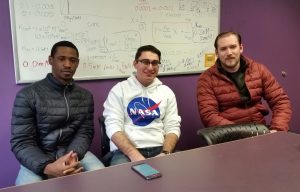 Calvary Community Church held group bible study with Chris, Peter and church member Samuel Feb. 7th. They learned Romans 3 together with a grateful heart for the grace of God toward sinners. They all were touched by the unconditional love of God and confessed they were sinners and arrested by previously sinful desires and arrogant heart.
Chris reflected "Thank you father for your mercy. Thank you for saving me while I was yet a sinner and freely justifying me by your grace through faith in Jesus Christ." After the lecture, Christ confessed that I am still struggling with my sinful image. Many times I am confused about my salvation. The church minister gave guidance him and he agreed to continue learning about Romans words.
The church minister said "It was a graceful time of group bible study. I felt that I need to pray and prepare more for the group study. I want to be humble in my ministry. I also would like to know and follow the way of humility."
Please pray for the campus mission of Detroit church to gather more thirsty people for the word of God and care them with the precious word of God.